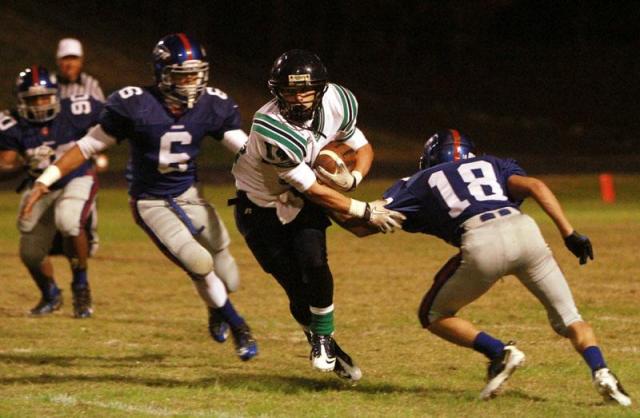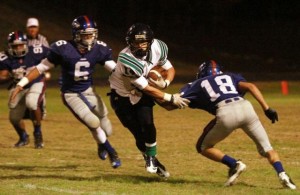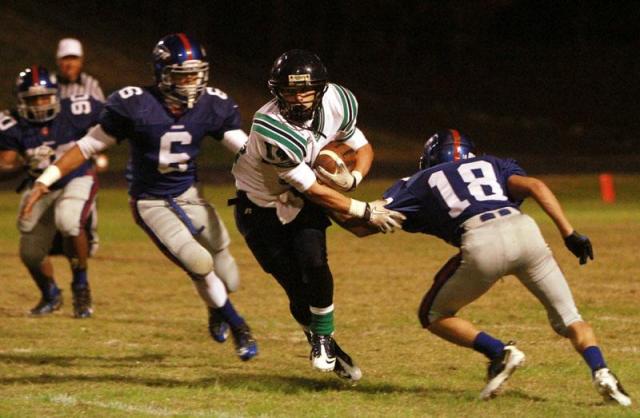 The Wake Forest-Rolesville Cougars defeated the Leesville Pride in an overtime thriller, 20-14, on Friday, November 5. The game decided winners of the Cap 8 championship.
A Leesville win would have meant an undefeated conference record, but Wake Forest-Rolesville spoiled the Cap 8 sweep by handing the Pride a loss that forced them to settle for a three-way tie for the regular-season championship.
Wakefield, WF-R, and Leesville each had one conference loss, and because each of those losses was to one of the other two teams with a single loss, no definitive winner could be crowned. Had the Pride won on Friday, the win would have marked the first time LRHS won the Cap 8 outright.
The playoff seeding based on 1st-place and 2nd-place finishes was decided for the Cap 8 by means of drawing from a hat. Leesville will be ranked as #2 from the Cap 8; the top spot having been taken by the Cougars.
Friday's game started off poorly for the Pride as Wake Forest-Rolesville scored 14 points in the first quarter, including a 15-yard touchdown run by James Harris, running back.
However, the second quarter turned the tables, and it was all Leesville as Josh Stanley threw two TD passes to Austin Berrios in the end zone, facilitated by a Berrios fumble recovery.
The scored remained 14-14 throughout the second half and into overtime, despite a field goal attempt by the Pride that was tipped by Jones.
The turning point of the game, however, came in overtime. Each team was given a chance to score from just outside the end zone, and the team that came away with a score and prevented the other team from scoring was to win the game.
Leesville won the coin toss, but despite excellent field position, lost possession of the ball on a fumble by D.J. Hunt. The Cougars managed to score soon afterward on an outside dash by Marcus Jones, a reserve running back.
Wake Forest-Rolesville quarterback John Conyers threw two interceptions and no completions; Josh Stanley had one interception, two passing TDs, eight completions and over 100 rushing yards.
Though dejected Loonies piled out of the stadium wearing green face paint and somber expressions, the thought of the approaching playoffs made the mood less grim.
Leesville will face Middle Creek High School (Tri-Nine record: 6-2) in the first round of the state playoffs. The Pride has the #3 seed in their portion of the NCHSAA Playoff Bracket, which the team shares with Cap 8 members Millbrook (#8), Broughton (#7), Wakefield (#5), and Wake Forest-Rolesville (#1).
The Loonies will hopefully turn out in force for what could possibly be the last home game of the 2010 season vs. the Middle Creek Mustangs.