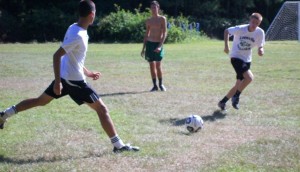 When the 2010 men's soccer season started, many were skeptical about how successful the  ncsca.org unranked varsity team would be.  However, the team is currently 3-1 with two huge victories under their belt.  One of these wins was the defeat of #7 ranked Laney.
"This game was very important because we really wanted to win," said Fernando Castellanos, junior.
Faelen Hoese, junior, agreed. "[However,]it was not as big as the Green Hope game."
The Green Hope game was a greater win because, according to ncsca.org, they number two in the Tri-9 conference.
"It was a huge confidence boost for us," said Castellanos, speaking of the Green Hope game.
The players agree that they owe their success to the coaches and their teammates.  
Cody Beckett, senior, said, "I love the players and the coaches.  It's like one big family.  The coaches really help push us to be the best that we can be."
Together the team knows what they want to achieve.  
"As a team we want to win the conference.  Then we'll take it one game at a time and try to win the States," said Brandon Arostegui, senior.
Raymond Stone, varsity coach, said via e-mail, "My expectations are to compete for the conference championship, make the playoffs, and then go deep in the playoffs… If we have bad games or don't play hard and smart we will definitely struggle vs our schedule."
Stone showed much confidence in his team. In an e-mail, he wrote, "We have some very good talent and if we play up to our ability we can have a great season… If we continue to improve we will be hard to handle and will have a chance against every team no matter their ranking…I am very hopeful at this point."