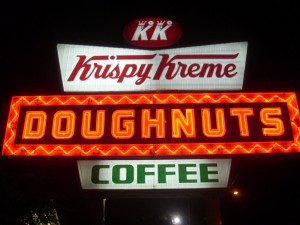 After being closed almost a month for renovations, the Krispy Kreme of downtown Raleigh re-opened on Tuesday, June 1, 2010.  Located on the corner of Peace St. and Person St., Krispy Kreme-lovers were lined up as early as Monday afternoon after in an attempt to win a dozen doughnuts each week for a year.
Despite the rain, Troy Smith, a teacher from Holly Springs, won the prize after he stood in-line for fourteen hours.  He was awarded the same prize last October when he was first in-line at the Fayetteville Store. 
Smith is also a multi-year participant in the annual Krispy Kreme challenge, which involves running four miles and eating a dozen doughnuts between the second and third miles.
Smith came prepared with a sleeping bag, green cot and a grill.  To pass the time, he served burgers (which were called "delicious" by several tasters) on grilled donuts to others in line.
Smith's dedication far exceeded other Krispy Kreme-goers; Brittany Saleeby, sophomore, stopped by to pick up her dozen hot glazed before school on Tuesday.
"The line was ridiculous," said Saleeby.  "I ended up just going to the drive-thru.  I definitely didn't have time to wait in the line, which literally wrapped around the whole store."
"I've missed Krispy Kreme more than I realized I would.  I always stop by when I go to Mellow Mushroom, but without it there, it just wasn't the same," said Saleeby.  "I'm just glad it's finally back.
The building, which is home to Krispy Kreme, had not been remodeled since it opened in 1971.