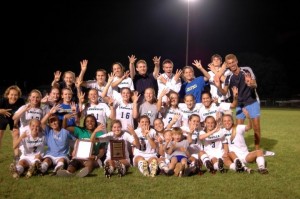 The Leesville Pride women's soccer team kicked off Thursday, May 6, against rival Broughton in the Cap-7 Championship. Leesville beat Broughton twice during the regular season, and hoped to make it a third time for the title.
Both teams' defenses held their ground ground throughout the first half not allowing a single goal. "At half time I knew it was gonna be a good game, and a strong fight to the finish," said Sam Floyd, senior, who was present at the championship game.
Floyd's prediction was correct starting with a goal by Broughton half way through the second half. The Pride would strike back less than four minutes later with a goal from Kelsey Weiss, junior, tying the game at 1-1.
The score would hold for the rest of the game as well as in the two 10' and two 5' sudden death periods. This meant that the championship would be decided by penalty kicks. The Pride is familiar with penalty kicks because they won the 2009 State Championship in a penalty kick shoot-out.
The Pride's penalty kick line up was Stephanie Bronson, junior, Rachel Hunter, junior, Courtney Johnson, sophomore, Weiss, and Claudel Pilon, senior.
Erika Lenns, senior goalie, would step up making two huge saves to put the Pride ahead. Weiss would play the hero again blasting another goal in the net to put the Pride up 4-2 with only one kick left for Broughton.  
"It was a great game, and it took a lot of team work to come back from being down 1 to 0 to our biggest rival. This game meant a lot to us, especially the seniors, since we have won this tournament since our freshman year and we didn't want to lose it our senior year. I'm really proud of my teammates for pulling it through cause we defintely deserved the win," said Pilon after the game.
The Leesville ladies would capture their fourth straight title, and gain more momentum going in to the State Playoffs. Weiss knows her work is not done yet. "Conference Champions, okay, Conference Tournament Champions, okay, time to win it all!" said Weiss.
The first round of the State Playoffs begins Tuesday, May 10, and Wednesday, May 11.