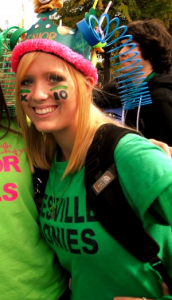 While most students around Leesville have been counting down the days until Winter Break, a small group of seniors are counting down the days to the end of their high school careers.  The week of December 14-18 was the last of the year for the seniors graduating in January.
Graduating early and beginning college a semester before their fellow classmates may be a frightening thought for many in the Class of 2010, but Casey Hix, Jill Stanfield and Jesika Perkins, along with thirty two other seniors, are ready to take on the challenge.
Rather than filling her schedule with unnecessary electives, Perkins decided to use her time in high school efficiently: she took mostly core classes, and only had to take a fourth English class during her first semester to complete the graduation requirements
"I'm planning to start college on January 11," said Perkins. "I want to go to school at DDC [Danville Community College] in Virginia, so I have to move and everything.  I didn't want to waste my time here when I could go ahead and start working toward my future."Although Hix is not planning on moving, she has also chosen to graduate early to get a jump start on college: "I want to go ahead and graduate so I can start [college] in January.  When I found out I could [graduate early] at the end of last year, I knew that was what I wanted to do."
Many would ask why someone would want to miss out on what some consider the best experiences of high school.  Not only will early graduates miss out on Prom, but also a graduation ceremony with their peers from the past four years.
Both Hix and Perkins are not bothered that they are missing out on these experiences.  Hix said, "[I do not feel like I'm missing anything] because I don't feel like this is the class I should graduate with.  I moved here at the beginning on junior year, so it's not like I'm leaving behind my best friends."
Perkins feels like she is missing out on a few important things, but she said, "I'm really just excited to start working for my future and go to college.  I'm ready to graduate."
The mid-year graduation ceremony is January 28, 2010.