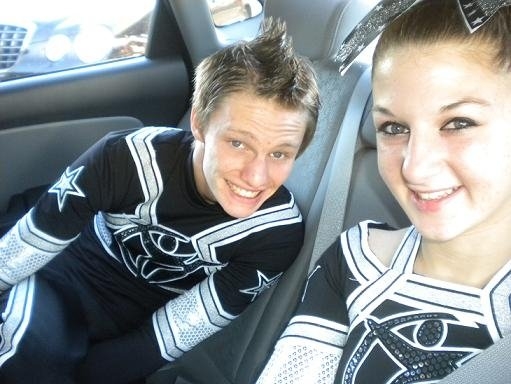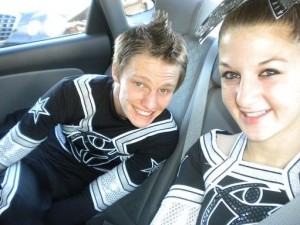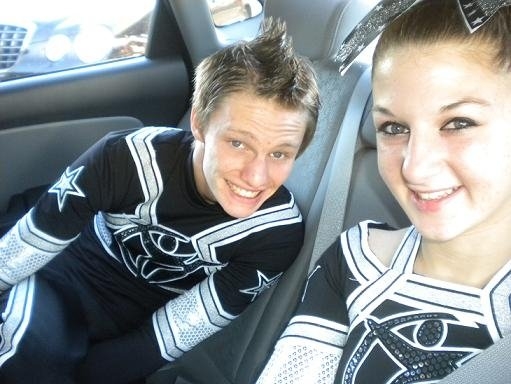 Geoffrey Phillips, junior, cheers for the Elite Cheer and Dance team in his spare time. Recently, Phillips aided his team in winning an Americheer competition on November 14 and 15 in Columbus, Ohio.
For Phillips, cheerleading is a newfound talent. Previously an avid gymnast, Phillips was in peak physical condition to join the Elite Cheer and Dance Gym, where he participates in three competitive teams.
"I guess I had the ability to cheer all along but didn't see it," said Phillips. "Once I got to the gym though, it was pretty evident."
"Geoffrey is a talented cheerleader," said Kelly Burns, sophomore. Burns has been cheering with Phillips for two years and insists that he will go far. "He's so good at what he does and is super nice to everyone at the gym! We all love Geoffrey!"
For everyone who believes cheerleading is "wimpy," Phillips is quick to disagree.
"That assumption is so annoying! Imagine constantly lifting your own body-weight, staying in accurate form the whole time. You get in really great shape and keeping up a flyer is a lot of work."
Despite these difficult tasks, you will not hear Phillips complaining. "You meet a lot of pretty girls, I'm not going to lie" said Phillips.
Male cheerleaders and female cheerleaders have different specialties. "We do a lot of stunting, you know, building up pyramids," said Phillips. "I tumble a lot! It's my favorite thing to do."
After Phillips and his fellow teammates competed in the Americheer competition, they won a full paid bid of $25,000 dollars to go to the World's Competition in Orlando, Florida.
"Winning the Americheer competition is a pretty big deal! I'm super pumped we get to compete!" said Phillips. "When we won, I was thrilled, absolutely thrilled."
In Phillip's opinion, the benefits of belonging to his gym are "endless."
"It will help me get into college, and it keeps me focused," said Phillips. "I absolutely love my gym! I have made so many friends and I am getting more confident about my tumbling and cheering skills every day."
"Geoffrey is an amazing athlete!  He'll definitely go far!" said Burns.