Despite a hard fight, Leesville's women's varsity basketball team lost the season first's game 31-90 to Green Hope on Tuesday, Nov. 17.
LRHS scored the first 2 points due to a technical foul, but after that, the Falcons began to dominate.
"We made a lot of mistakes, mostly because we were nervous," said Lauren Scollard, junior.
A turnover and subsequent lay-up by co-captain Julianne Dragan, senior, seemed to ignite the Pride, but the fuse was short.  The biggest weakness in the first quarter was fouls, which lead to the first quarter ending 4-27.
As the game progressed, careless errors continued.  Both teams traveled and double dribbled excessively, but first-game jitters seemed to hurt the Pride.
The whole team showed hustle, but almost every shot was off the mark.  Most disappointing was a three-point shot Dragan made six feet from the line immediately after the buzzer rang.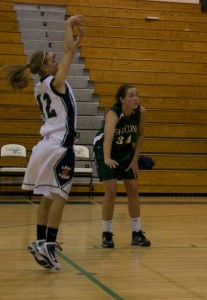 In the fourth quarter, Leesville showed improvement.  The girls seemed determined not to fail because they drew more fouls against Green Hope, had fewer turnovers, and fought for rebounds.  The team's tireless perseverance might prove to be Leesville's biggest advantage this season. 
Fortunately for the Pride, their biggest fault is in careless errors.  With fewer fouls and turnovers, the Pride will likely fare better against Green Hope on Nov. 24.  This is their chance to redeem themselves and prove that their talent, as a team, is better than the 31-90 score indicates.
"Knowing that we have so much potential, and didn't utilize it last night, is the hardest part of losing," said Scollard.  "We don't have much height, but we have great guards that we need to use.  Hopefully, we can bring more to the table against Apex."
For Leesville, future games should speak volumes about the talent spectators saw: good cooperation and communication and, more importantly, a determination to keep trying even in the most challenging moments.
Pierre Lourens served for The Mycenaean in 2008-2009 as a staff writer. In that year, he took on the project of creating the first online edition of The Mycenaean. The following year, he was a co-Editor-in-Chief with Amy Kreis.