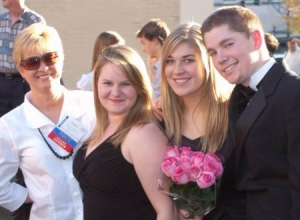 Lauren Smallwood, Eddie Hackim, and Mary Robert McGrath were selected out of hundreds of applicants to participate in the annual North Carolina Music Educators conference held on  Sunday, Nov. 8, in Winston-Salem.
Before being selected, applicants had to display their musical skill in a competitive audition where only 160 students were chosen.
Those who auditioned were critiqued in the categories of tone quality, interpretation of music, knowledge of notes, diction, technique, and sight reading.
"The audition piece this year was definitely harder than last year's" said Sarah Melvin, junior.  Melvin auditioned in 2007.
"The judging is intense and everyone gets different scores because judges have different opinions," said Hackim, senior. "I was biting my nails the whole time."
"Because I was in honors chorus last year, I kind of knew what to expect. I figured if I made it, I made it. If I didn't, I'd move on.  I still had difficulty with nerves, though" said Smallwood, senior.
Students received "The Conversion of Saul," an eight part composition by Z. Randall Stroope before summer break last year, so they could further prepare for their auditions with Diane Covington, Leesville Vocal Music Director.
"At first, when I saw all the complicated looking notes going up and down the page, I was like woah, but we practiced with Mrs. Covington a bunch of times, and we had to put in a ton of hours working on technical stuff like dynamics," said Brooks Jordan, sophomore.
"When Mrs. Covington called me and told me I got in, I screamed in her ear. I couldn't stop smiling and I almost cried" said McGrath, sophomore. "It takes up a whole weekend and we'll pretty much be rehearsing from morning till' night. It will be so exhausting, but it's totally worth it."
Although some applicants from Leesville did not receive the opportunity to perform at the conference, they gained a lot from the experience. "A lot of hard work went into preparing, and even though I didn't get in, the experience was still very rewarding," said Melvin.
To find out more about the North Carolina Music Educators Conference, go to the NCMEA website.