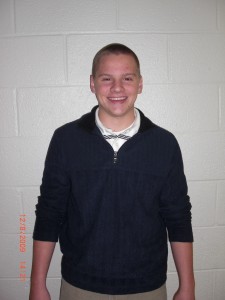 When most students think about the last few days before Winter Break, they sit with nervous anticipation, twiddling their fingers as the last days of school pass them by. Tyler Bunzey, junior, is not most students.
Bunzey will travel to Serbia on December 13 with the Providence Baptist Church for Operation Christmas Child this year.
For nine days, Bunzey will hand out boxes full of gifts supplied by people all over the United States to hand out to the Serbian people.
"This is my first time going, I'm looking forward to making a difference in people's lives, and not just benefitting myself [during Christmas]," said Bunzey.
The church is also making a stop in Vienna, Austria for dinner – an experience that the group will surely not forget any time soon.
Bunzey anticipates a tough workload ahead of him, as he will miss multiple weeks of school.
"I'm trying to get started on my work early, but I'll have a lot of work over Christmas Break. It's definitely worth it for getting to help the [Serbian] people though."
Bunzey was also looking forward to one other aspect of his adventure. "I've heard the Serbian people love peanut butter but they can't get enough there, so basically I'm loading up on the Jiff!"